If you are in the United States and have a green card, you should get familiar with the green card renewal process. You will need to renew your green card at some point if you plan to continue to stay in the country lawfully. This can be a simple process, but it is always best to have a lawyer oversee it. At Puntier Law, we have helped many immigrants in Atlanta with this process, and in this blog post, we will discuss the steps involved. We want you to know what to expect when renewing your green card and do everything you can to ensure the process goes as smoothly as possible.
Start your green card renewal process six months before the expiration date
The best time to begin the green card renewal process is well before the expiration date arrives. You should start the process about six months before the expiration date. This will give you plenty of time to gather the required documents and send them in. You can call us for help at any time, of course. But if you wait too long, it can jeopardize your chances of a successful renewal.
Waiting too long could set you back significantly
It's not worth the risk to wait. If your green card expires, you may need to leave the United States and apply for a new one from your home country. This can be frustrating. You may have to wait months or even years to get a new green card. In the meantime, you will be unable to work in the United States or return to your home here.
Expect to have important documents ready
Instead, you can call us at least six months before your green card expires and gather the required documents, including:
Your current green card

A passport-style photo

Proof of residency

Proof of employment or student status
You can find a complete list of required documents on USCIS's website. Be sure to double-check this list as it is subject to change. You can also download a Green Card Renewal Checklist here:
Green Card Renewal Checklist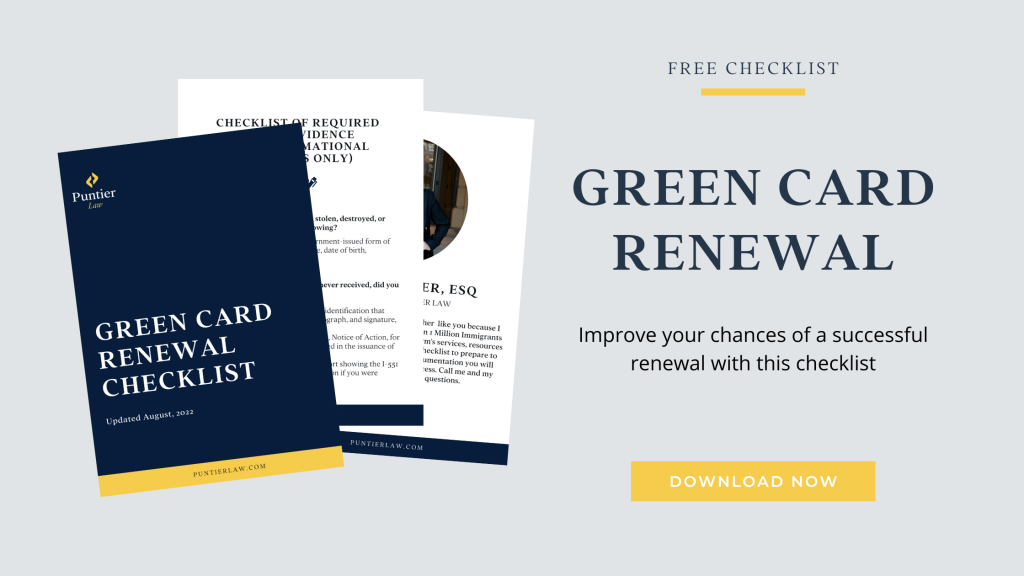 The green card renewal process is delicate, and mistakes can set you back significantly
You could renew your green card online on the USCIS's website, but there are risks. The website is often down and can be difficult to navigate if you are unfamiliar with it. Making a mistake on any of the required forms could delay the process or get your application denied altogether. Some of the forms you will need to fill out are:
I-90 Application

to Renew or Replace Permanent Resident Card

G-1145 E

-Notification of Application/Petition Acceptance (this is optional, but we recommend it)
You will also need to pay a filing fee of $455 for the I-90. You can find more information about green card renewal fees here: https://www.uscis.gov/g-1055
You may be asked to appear for an interview
After you have submitted your green card renewal application, you may be asked to appear for an interview at a USCIS office. This is not always the case, but it is possible. If you are asked to appear for an interview, we recommend that you bring a lawyer with you.
You need to pass the interview
The goal of the interview is to confirm that you are still eligible for a green card and that you have not abandoned your residency in the United States. At the interview, a USCIS officer will ask you questions about your life in the United States and your plans for the future. They may also ask to see documents like your lease or mortgage, proof of employment, or school transcripts.
Our green card renewals success rates are high
You will need to renew your green card every ten years, but the process is generally the same each time. The green card renewal process can be complex, and it is important to have an experienced lawyer on your side. At Puntier Law, we have a high success rate for green card renewals. We will work with you to ensure that you have all of the required documents and that your application is filed correctly.
We know the ins and outs of green card renewals. We will make sure that your application is filed correctly and on time. We will also represent you if there are any problems with your application or if USCIS requests an interview. Contact us today